Barn
Venues
---
The Lazy J is available for rental for any type of event, from 1-250 guests, any day of the week. Daytime and evening events may be planned and held inside either one of the fully furnished barns, as well as on the grounds.

The Lazy J ranch hands will be available from the time of your arrival to the time of your departure to smoothly handle every detail and ensure a relaxing and memorable experience for everyone.

Please Note: Special Rental Rates Apply For Weddings.
---
RANCH GROUNDS
One visit to our ranch and we know you will agree that The Lazy J Ranch is truly a one-of-a-kind facility in which to host any kind of event. Our uniqueness extends to our style of entertainment and the design of our evening long program.
Situated on 30 acres in the beautiful farming area of Milford, Michigan, the Lazy J offers 2 charming barns in which to host your special occasion. Our great location in a beautiful country setting complete with down-home atmosphere and entertainment will create a memorable experience that will distinguish your event from all the rest.
---
TURN OF THE CENTURY BARN
Our two-story barn was built at the turn of the century and provides a wonderful old-fashioned atmosphere. Originally built by an Amish family in 1904 as a dairy barn, this gambrel style barn has been restored and converted into two separate halls, an upper level named the "Hayloft Barn" and a lower level named the "Dairy Barn". Both feature natural lighting and finished flooring. Inside the barn, you will find old world charm as the original hand hewn beams and logs are still intact.
---
HAYLOFT BARN
The 2100 square foot upper level with 30 foot ceiling, originally the hayloft, was built to store hay and farm equipment. This level includes the original grainary, which has now been converted into restrooms. The upper level will accommodate up to 100 guests.
The Hayloft Barn is available at the price of $2500 (both barns are available for $3500)
---
BRIDAL SUITE
Our Bridal Suite is available to the bride thirty minutes prior to the wedding. Finished knotty pine planks line the walls of this comfortable and cozy suite, where you can relax with plenty of seating and air conditioning.
---
WILD WEST BARN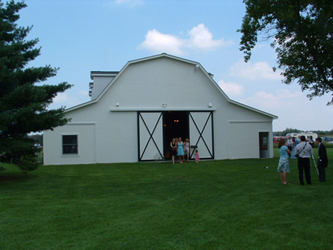 In 1999, a second barn was built to accommodate large groups of up to 250 guests on one level. Finished knotty pine planks line the walls of this 3500 square foot barn with a 25 foot high cedar ceiling, lending a charming feel to any event held here. The Wild West barn is available at the price of $2,500 (both barns are available for $3,500)
Rental Rates listed above include up to four hours of rental time; additional hours may be purchased at the rate of $350 per hour
Catering Services are available at additional rates
Private entertainment may be hired
---
DEPOSITS AND PAYMENTS
A $1000 deposit is required to book all Special Events.
FINAL PAYMENT IS DUE TWO (2) WEEKS BEFORE THE DATE OF YOUR EVENT BY CHECK OR CASH.
All deposits are considered non-refundable and non-transferable.
If you cancel the event and we are able to fill your date with another booking then we will refund your deposit.
Deposit Checks Payable to:
Joe Schultheis
Mail to:
Milford Travel, Inc.
653 Highland Avenue
Milford, MI 48381-1519
---
AMENITIES
Both barns include a bar for drink service as well as picnic tables dressed with red and white checked table cloths. Additional rental options are available. While there is a charming original outhouse on the grounds – don't worry! All of our barns have been equipped with modern plumbing in addition to electricity, finished flooring and heat, making them comfortable year-round. All of the visual charm and old-fashioned atmosphere complete with all the modern amenities!